The best Peruvian typical dishes
If there is something everybody has hear about Peru, worldwide, besides its amazing culture, history and destinations Peru possess, is the food. Peruvian gastronomy is day by day creating new techniques making some variations to the typical food that will delight your taste, no doubt.
That's why it is not weird that having a privileged and unique cuisine, Peru offers a wide variety of typical dishes that you cannot miss tasting:
Peruvian Ceviche
Considered the most popular Peruvian dish and worldwide known, Ceviche is a marine dish, prepared with small pieces of fish, chili, onion, coriander, lemon juice and salt. This dish, depending on the region of the country can be modified by adding sweet potato, seaweed, corn, and cancha serrana.
It is important to use good fresh fish, as sole, mere fish or corvine and the complements mentioned before so you have a good dish.
Cuy Chactado
For the Andean cities the cuy (or guinea pig) has been used for many centuries as an important source of nutrition and is still a tradition, that's why it has become in one of the best typical dishes of Peruvian cuisine. Besides its delightful taste, the cuy meat is rich in iron, proteins, low-fat and it's cooked with different dressings according to the region of the country you are in. So, we can highlight the Cuy Chactado preparation, which is fried in abundant boiling oil and it's served with boiled potatoes and salad.
Rocoto relleno
This is a typical dish from Arequipa department, and which particular characteristic is that is really spicy, as rocoto is a kind of chili from Peru and in this dish is filled with ground meat, olives, onion, hard boiled eggs and grated fresh cheese, all with seasoned with cumin, salt and chopped parsley.
Lomo saltado
This is a traditional Creole dish from Peru which origins date from Asian migration in XIX century. It is prepared with small pieces of meat, tomatoes, aji Amarillo, onions, French fries that are put all together in a big hot pan and it's flavored with pepper, soy sauce and cumin. It is usually served with rice and you will find it in almost all Peruvian territory.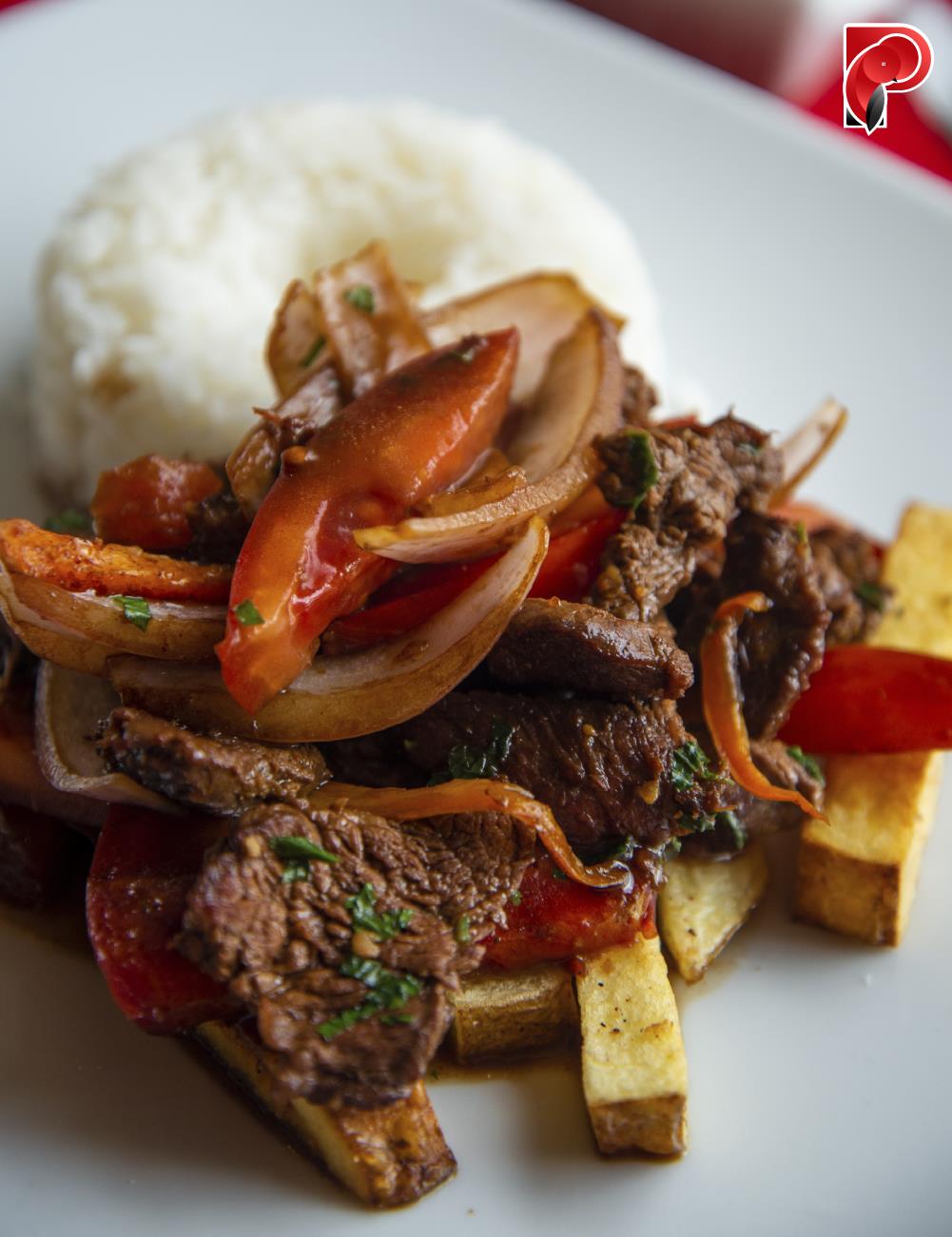 Papa a la huancaína
This Delicious Peruvian dish is from Huancayo city, in Junin, but has become popular in all 3 regions of Peru (coast, highlands and jungle). The cooking is easy: put milk, fresh cheese, soda crackers and aji Amarillo (yellow chili) all together in a blender and blend it. To serve pour this yellow cream into some boiled potatoes (papa amarilla) and you can decorate it with hard-boiled eggs in slices, lettuce and olives too.
Pollo a la Brasa
Pollo a la Brasa is considered the most popular dish in Peru. This dish is so representative in Peru that it has a national day: July 16th. This dish consists in a chicken seasoned with a variety of ingredients (garlic, cumin, aji panca, soy sauce, vinegar and pepper) and cooked on a special grill, making the chicken to rotate on its axis. It is served with French fries and salad.
Causa Limeña
Causa Limeña is a typical dish of the Peruvian cuisine, where the main ingredient is the "yellow potato" (papa amarilla) it is usually served in 2 presentations: Causa stuffed with chicken and Causa stuffed with tuna fish. This delicious dish dates from the Viceroyalty in Peru and the name comes from the Quechua word Kausay that means "necessary sustenance and food" making reference to the potato. In fact, Causa Limeña is prepared with some kind of smashed potatoes (of papa amarilla) and aji Amarillo to wich is added different ingredients as mayonnaise, avocado, Peruvian choclo, boiled egg, lettuce and olives. The usual presentation is in a circular form.
Anticuchos
Anticuchos comes from the Quechua anti kuchu which means "cut of meat from the Andes". It dates from the pre Inca period when this dish was cooked with llama meat seasoned with aji panca and aromatic herbs and with the time this dish is now cooked with heart of beef that is seasoned and then string together in a little stick and served with potatoes, choclo, chili and chicha de jora or chicha morada.
Sopa de Mote
Sopa de Mote is a Peruvian typical dish that is commonly served in celebrations in the highlander region of Peru, is cooked with corn or mote, chest, belly of ram and beef that are boiled in a pot all night long before the celebration. Sopa de Mote is seasoned with red onions, aji panca, garlic, pepper and served with chili, parsley, rocoto and other seasonings.
Pachamanca
Pachamanca is another of the most popular dishes of the Peruvian cuisine, mainly in the highlands, known since the Inca Empire and which preparation was part of a ritual of gratitude to Mother Earth that provided with food in the harvest times. Pachamanca comes from the Quechua words: "Pacha" that means land or ground and "manca" that means pot, meaning "Ground pot" and the tradition is to dig a hole on the ground where you put some stones and heat them, then you put all the ingredients of the Pachamanca over the heated stones and cover it with banana tree leaves and soil. Among the ingredients of Pachamanca, you will find meat, pork, cuy, chicken with sweet potatoes, potatoes, choclo, broad beans and yucca.
Ají de gallina
This Peruvian dish fuses Spanish and Quechua ingredients consisting of a thick cream prepared with shredded hen, bread, milk, aji verde, and broth, it is served with Peruvian potatoes, rice, and decorated with slices of hardboiled egg, olives and lettuce. Its spicy flavor has made it one of the favorite dishes in Peru and that you can find in different regions of the country.
Juane peruano
Juane Peruano is a Peruvian dish typic from the Amazon region, made with rice, eggs, olives, onions, yuccas and hen, all wrapped in banana tree leaves and boiled for 1 hour. Usually Juane is served with chicha de jora and most popular during the San Juan Festival every year on June 24th.
Ají de Gallina
This dish has its origins in a mix of Quechua and Spanish ingredients, altough the Spanish version points out that it was the African slaves who brought it to Peru in XVII century and it was prepared with the leftovers of hens and potatoes. With time Aji de Gallina was added chili (aji) reason why it's named like that, but nowadays is usually prepared with chicken and served with white rice and boiled potatoes.
Olluquito con Charqui
This is another representative dish of the Peruvian cuisine that contains 2 exclusive ingredients: olluco (a type of potato that grows in the mountains) and charqui (dry llama or alpaca meat) and it is considered a really important food as it has high content of calcium, protein and carontene and it is not expensive.
Seco de cabrito a la norteña
This is a typical dish from the north of Peru (Lambayeque and La Libertad deparments). It is a stew of goatling marinated in vinegar and chicha de jora and that is usually served with black beans garnished with aji mirasol, sesame, cumin, pepper, yuccas and onion.
This gourmet adventure is ideal to enjoy the best vacations in Peru for the lovers of gastronomy, so if you are planning to travel, get the assistance of the experts as flyperunow.com here you will find the specialists and the best deals in airfares, tourist packages and more.